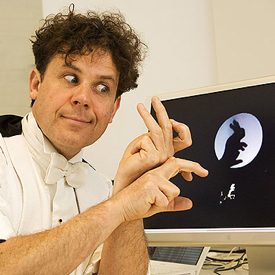 Hands down our favorite performance at Magic Live was Raymond Crowe's shadow puppet routine to the tune of "It's A Wonderful World," and it seems like the rest of America agrees. The video hosting clearinghouse YouTube has been very good to Australia's "unusualist," specifically in reference to his nimble shadow making ability…
A cute little bit of finger shadow puppetry to the music of It's a Wonderful World performed at the 2007 Helpmann Awards has made its way via Fox News to YouTube.

And this has taken Crowe on the road to stardom.

"Twenty-six years in the business and all it takes is one week on YouTube," he said.

Now Crowe, from Adelaide, is in negotiation with the David Letterman show and fielding inquiries for corporate gigs across the US.

"I was in Las Vegas for a magicians' convention when it hit two weeks ago and people were coming up and telling me they were receiving emails with video of my work,'' he said.
Click AFTER THE JUMP to see the routine. We certainly hope he can ride this momentum to more American gigs, his entire set was very entertaining and his physical presence was unparalleled even on that crowded bill of veterans. Considering he has taken his spot next to other YouTube sensations, is a shadow puppet rendition of "Chocolate Rain" too much to ask?