Irish magician Keith Barry (who we last saw here in the States with his CBS special Extraordinary) suffered serious injuries in a car accident last Thursday and has been recovering at a local hospital since then. This from the Irish Independent…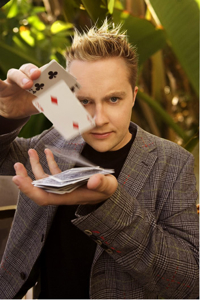 MAGICIAN Keith Barry said he is lucky to be alive after almost losing his leg in a car accident.

The accident means filming for his new British television magic show has been put on hold until he can walk again.

The 30-year-old Waterford-born illusionist had to be cut from the wreckage after his Subaru Legacy car collided with a car close to the Border.

The star was driving home from Belfast last Thursday with his manager Eamon Maguire after the funeral of concert promoter Jim Aiken.

Mr Barry suffered multiple leg injuries in the crash outside Newry and is undergoing intensive treatment in Belfast's Royal Victoria Hospital.

He has told friends he is grateful to be alive and happy he did not lose a leg. Mr Maguire suffered a broken collar bone and the driver of the other car was also injured.

Mr Barry is not expected to be able to resume work for several weeks.
The Independent site has a pretty stubborn registration policy, so click after the jump for more of the story. The entire iTricks staff wishes Keith a speedy recovery and looks forward to seeing his ITV series hit the airwaves.
"He has multiple fractures and his leg is smashed. It was very scary and a very, very close thing but he is trying to stay positive," said a friend last night.

"He is just thankful he has not lost a leg but he is expected to recover."

His new series on ITV had been due to be screened in May and one of the first shows is expected to feature the set and stars of Coronation Street. However, as a result of the accident, filming is expected to be delayed and the star does not know when he will be fit enough to resume work.

He and his manager had to be cut from the wreckage by firemen and rushed to the Royal Victoria Hospital in Belfast.

He will have to undergo intensive physiotherapy before he can walk again.

He had pre-recorded a slot for last night's 'You're a Star' show on RTE.