At iTricks.TV, we've always thought of ourselves as the closest thing to a 24/7 magic channel. To do that, not only do we have to find videos from the big magicians everyone knows, but we have to spotlight magic that isn't even on the radar yet. More specifically, we need you to send us your videos so we can create the most complete repository for magic video on the internet.
Why create a magic video that just gets lost in the shuffle on YouTube or MetaCafe, when you can increase your visibility by sending us a link? It's free and takes less than a minute.
You don't have to register or upload any files. Just send us a link or an embedded code from any of video hosting site to MagicVideos@iTricks.com and we put it up. This insures your video will be listed right next to Angel, Blaine, Brown and the rest. Also, you remain in complete control of your content, if you want it off iTricks.TV, just pull it down from the site you hosted it on or email us and we'll remove it.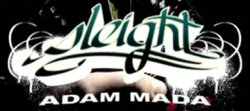 But what channel is complete without shows? We are proud to introduce Adam Mada's Sleight, as our first iTricks.TV series. The first episode can be seen above and new episodes will be posted every Tuesday and Friday throughout March. But feel free to look through the whole series right now by clicking here.
Are you the star of iTricks.TV's next series? Let us know by emailing MagicVideos@iTricks.com.
Enjoy!