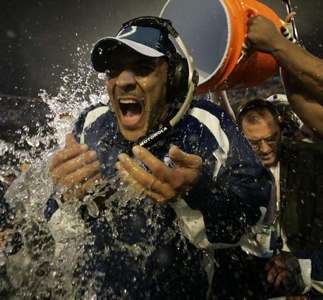 It seems as if Penn and Teller, despite their Mickey Mantle/Roger Maris gaffe, are the recipients of the 2007 Scripps Howard Super Sage Award. They correctly picked the winner and came closest to the score of of last night's Super Bowl XLI…
Penn won't reveal their secret, and to no one's surprise, Teller's not talking.

"We're not football fans, we're magicians.

"That means we're liars, cheaters and swindlers," said Penn Jillette, the talkative member of the duo. "That's much more useful in these kind of contests than a knowledge of football. We did what we had to do to win, just like … who was it that won again?

Penn & Teller won the Super Sage award thanks to their pinpoint prediction in Scripps Howard's 18th annual Celebrity Super Bowl Poll. Penn & Teller, astronaut Buzz Aldrin and Olympic swimmer Michael Phelps all guessed that the Colts would win, 28-17, just one point off the actual score of 29-17. Penn & Teller won the Super Sage Award after a coin flip.

Penn & Teller narrowly missed joining actor Dennis Farina (2005) and tennis legend Martina Navratilova (1998), the only two celebrities in the Celebrity Poll's 18-year history who picked the winning team and the exact final score.

Jillette said that he and Teller didn't even watch the game, as they were writing for their TV show on the Showtime cable network, which premieres its fifth season March 22.
So there you have it, P and T are gambling omens. For those who doubted the pair and lost money betting on the new model for interception efficiency Rex Grossman, you can always double down on the Pro Bowl.