Today, for those who are about to panic because you totally forgot to get her anything, is Valentne's Day. In the spirit of the holiday, and in the continuing iTricks mission to bring you elements of the magic community you may not have known about, we bring you Angela Funovits.
Women in magic are rare, and young magicians with the kind of drive Angela has might be even rarer. Enjoy our Q and A with Ms. Funovits and Happy Valentine's Day from everyone here at iTricks.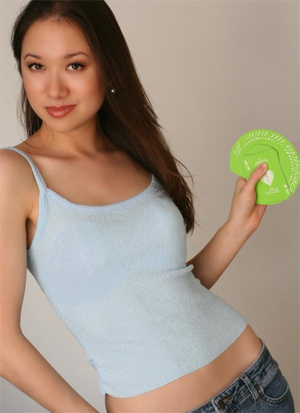 iTricks When did you first get interested in magic?
Angela I was 10 years old when The Masked Magician came on TV; he's what started it all. It's funny and almost shameful to think that the man who became so widely resented by the magic community is the one responsible for me being a magician today. However, because of him I try to remember the impact that learning a few simple tricks can have on young minds, and this is the basis for a program that I have created called Seraphim One Outreach. Through this program, magicians volunteer their time to perform and teach magic to families dealing with cancer. It's been incredible to see people mentally and emotionally revived by magic at such a difficult time in their lives. Equally incredible has been the support for this program by talented and giving magicians, as well as our sponsor Penguin Magic.
iTricks Do you think crowds react to you differently because you're a woman?
Angela Being a female has definite advantages in magic. When someone is walking down the street and a young girl approaches them, it's much more disarming than a big tough guy with a black deck of cards. I also wouldn't have been proposed to at my last corporate gig if I weren't female! You can watch my performance videos at www.myspace.com/silverveil, pay close attention to the reactions, and point out the ones that would probably be different if I were male. However, I still think that individual showmanship and entertainment value will always be far more important than gender. Just being male or female doesn't make you a great magician, and it doesn't dictate how well you can build rapport with your audience. Ultimately, the talent that you develop and the hard work that you put into your performance is more highly correlated with audience response than anything else.

iTricks Have you used your magic skills to impress someone you're romantically interested in?
Angela Not intentionally. It doesn't hurt, but I think that if you want to make a lasting impression upon someone, you have to show them who you really are in terms of charisma, ambitions, values, and intelligence; and that goes much deeper than a card trick. So it's okay to impress someone with your skills, but don't forget that relationships aren't built upon sleight of hand.
After the jump, find out Angela's suggestions for how her shy male counterparts can get the girl of their dreams and her own plans for Valentine's Day. Also, video of Funovits in action…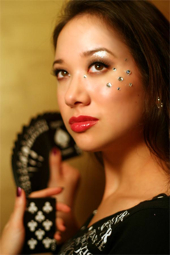 iTricks Since you know the power of suggestion as a magician, do you have any advice for some of our young male magician readers who may be self confident when performing but shy around those they may be interested in off stage?
Angela Don't take things too seriously; learn to laugh with others and keep your guard down. People gravitate toward uplifting, extroverted, and personable individuals, so don't be afraid to smile and have fun!
iTricks What are your plans for Valentine's Day?
Angela I have no choice but to spend this Valentine's Day studying for an embryology exam– the price I pay for choosing medical school. It sounds tough, but it's worth it!