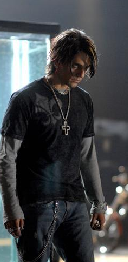 This is from Angel's official MySpace blog:
YOU CAN BE IN A TAPING OF CRISS ANGEL MINDFREAK!

Are you a fan of Criss Angel and want to be in a taping of A&E's hit show, "Criss Angel Mindfreak" please contact us by video if you meet the following criteria. Do you believe in the supernatural? Have you seen a ghost? Have you ever had a psychic experience? If so, please submit a 3 minute or less non-returnable home video describing your experience(s) with the unknown. Please remember to state your age, place of residence, and contact information on the video.

Please submit all submissions to:
Criss Angel Mindfreak Production Office
Luxor Hotel
3900 Las Vegas Blvd S.
Las Vegas, NV 89119
Thanks to iTricks reader ICEBRAT515 for the tip and good luck to anyone who submits, we hope to see you on A & E when the new season hits.