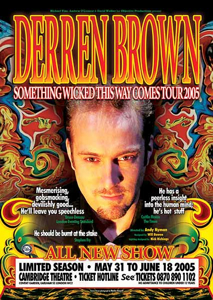 Print reviews are now trickling through about Derren's big holiday special Something Wicked This Way Comes. Although praise for Brown's absolute dominance in his field and peerless watchability is found in buckets, both reviews seem to think that as a performer, Brown's almost dazzled his audience too much. His brand of tricks, no matter how wild (the special saw him cut off all circulation before jabbing jagged wine glass into his skin) still seem… familiar.
However, Brown has one gigantic problem. In terms of career trajectory, he still hasn't done anything to top the 2003 Russian roulette show. Hypnotising a bunch of students into believing they're talking to a ghost? Good — but not shooting yourself in the head. Persuading a bunch of middle-management types to take part in a £100,000 armed robbery? Good — but not shooting yourself in the head. And so Something Wicked This Way Comes, which had Derren put a plastic bag over his head, stop his pulse, enter a "euphoric trance" where his "blood had stopped", and then crawl over broken glass on his face, without a graze — all good, but, when it comes down to it, just not as good as shooting yourself in the head.
Meanwhile, The Daily Scotsman has similar feelings and also our first fantastic backhanded compliment of 2007.
The fact that he has a silly name, thinning ginger hair and a rubbish goatee and yet still manages to be one of the most charismatic and commanding performers in the country merely proves that we're dealing here with someone to whom normal rules of logic do not apply.
It seems like Brown next real challenge will be to shatter the high ceiling he has set for himself.