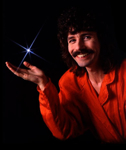 Motivational speaker Brad Montgomery, whose mantra is that "life is funny and filled with magic" has a brief tribute to Doug Henning on his blog:
Doug Henning: Motivational Speaker of Magician?

Both, of you ask me. When I was a kid I loved this guy. His TV specials made me want to become a magician.

We miss him. (He died a few years ago.)

I just ran into the cool quote from Doug, and thought you'd be interested:

"Wonder is very necessary in life. When weíre little kids, we're filled
with wonder for the world — it's fascinating and miraculous. A lot of people lose that. They become cynical and jaded, especially in modern day society. Magic renews that wonder."

Dude! You were a skilled and totally entertaining magician. Sometimes a bit weird, but always charming and totally authenitic. Thanks for being an inspiraion.