SPONSORED POST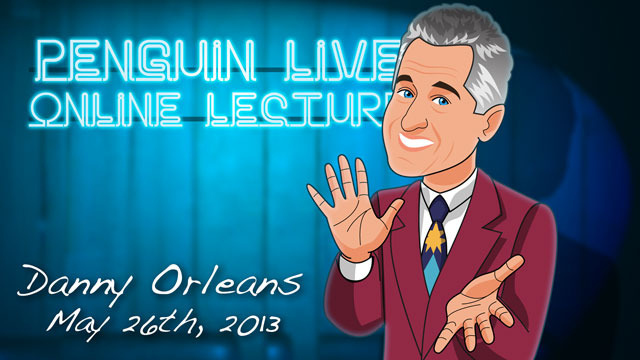 One of the greatest kids-show magicians of our time is coming to Penguin for a MASSIVE 2-hour live event. SUPPORT LIVE MAGIC. RESERVE NOW AND SAVE
http://www.penguinmagic.com/p/3508
"Danny Orleans performs one of the best kids magic shows — strike that — one of the best magic shows, I have ever seen." -Mac King
"Probably the best designed lecture on kid show magic I have ever seen. Danny is really entertaining and you will learn a lot. This is full of solid usable information." -David Kaye (Silly Billy)
"A master class in the psychology of young audiences" –Joe Turner
"Danny Orleans captivated our KIDabra Chapter members and masterfully demonstrated his skills both as a children's entertainer and a top notch lecturer; HIGHLY RECOMMENDED!" -Brad Ross
"Danny Orleans is a master of behaviorism. He successfully teaches how to use positive reinforcement to control audiences of children." –Eugene Burger
"Outstanding lecture! The way you illustrated your topic points with video footage of actual live incidents …were lessons over and above any lecture about magic tricks. Your lecture was a show, a superbly orchestrated show." -Gene Anderson
"Danny Orleans is a Renaissance man of magic: a performer, a scholar, a creator. His lecture proves that he is a seasoned pro when it comes presenting magic to children." -Joshua Jay
http://www.penguinmagic.com/p/3508
If you could ask ONE question to one of the world's most creative professional magicians, what would it be?
If you' ve never been to a magic lecture, there s never been a better time. Sunday May 26th at 7:00pm, we re live-streaming Danny Orleans in a spectacular 2-hour interactive online lecture. Watch, ask questions and learn things you won't find in any book or DVD.
ATTENDING COULDN'T BE EASIER.
1. Purchase the Danny Orleans LIVE product . This is your ticket.
2. On Sunday May 26th anytime before 7:00pm Eastern, click the MyPenguinMagic area at the top of the Penguin site. You ll see the livestream appear 1 hour before showtime. At 7pm sharp, Danny will hit the stage and begin his JAM-PACKED professional lecture.
3. Sit back and watch over 2 hours of DVD-quality live streaming magic from the comfort of your own home.
4. Ask Danny questions and discuss the tricks DURING the lecture.
http://www.penguinmagic.com/p/3508
DON'T WORRY IF YOU MIGHT MISS IT.
Reserve your seat anyway. Within 24 hours of ending, you ll be able to download and/or watch the full lecture on-demand, and go over all the great routines and subtleties as many times as you want. It ll be waiting for you in your MyPenguinMagic area.
Magicians flock to see workers give talks. Why? Because these guys see and learn things that you won t find in any book or DVD. Yes, you'll be learning some incredibly powerful A-material, but the INVALUABLE stuff will be the insight you learn along the way.
This lecture is for everyone, from the beginner to the professional and for magicians and mentalists alike. Don t miss it!
http://www.penguinmagic.com/p/3508
SPONSORED POST