SPONSORED POST
Live lectures held every Wednesday at 4pm PST
Download available within 48 hours after each live lecture
Jesse Feinberg, Chris Korn, Bizzaro and Jeff Prace!

11/5 – Jesse Feinberg is a creative soul who has consulted for some of the top names in magic including the one and only Criss Angel.
11/12 – Chris Korn is a true working pro. Having had numerous TV specials including one on A&E, Chris is considered to be one of the most entertaining sleight-of-hand magicians living today.
11/19 – Bizzaro is just that. Bizarre. His creations are absolutely genius and he plans on teaching never before published effects for the first time ever, along with lessons in creativity, prop making and even electronics tinkering.
11/26 – Jeff Prace, a 20 year old prodigy who has published effects in almost every major magic periodical that is out there has a lecture planned that will have you using more than just a deck of cards.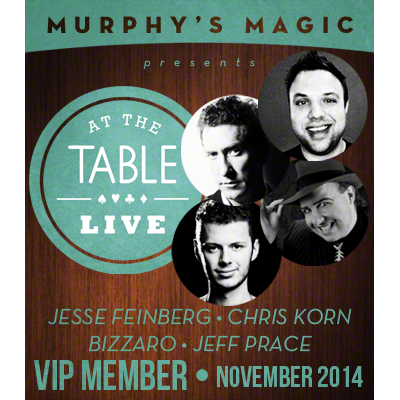 Become a VIP Member at your favorite Murphy's Magic dealer including these fine retailers:
MJM Magic
Vanishing Inc.
Hocus Pocus
Big Blind Media
Saturn Magic
Magic Trick Store
SPONSORED POST