Dee Christopher Presents: Sight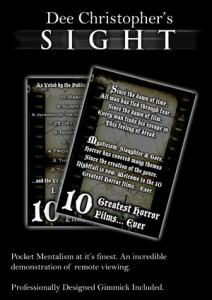 A card is pulled from your wallet. It lists the top 10 greatest horror films of all time.
The magician hands this to the spectator and offers an experiment in remote viewing. The magician will try and see through the spectator's eyes…
The spectator focuses their vision on one of the titles… The magician straight away begins to see what they see, recognizing the scenes from the film the spectator does and reveals slowly and methodologically the title they are staring at with incredible accuracy.
There are several points that set this trick aside from it's predecessors… Very little memory work, everything is logical and very direct.
The theme of horror movies was selected because I am a huge horror fan, however, this theme lends it's self perfectly to all kinds of performance styles, a serious presentation, a bizarre presentation and even a very tongue in cheek comedy presentation.