Cups and Balls Vol. 1 DVD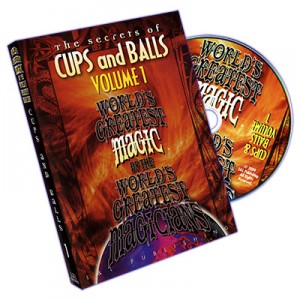 What can one say about the Cups and Balls? It's an iconic trick and has become almost as synonymous with the conjurer's art as the proverbial rabbit from hat. It's certainly one of magic's oldest tricks. But why has this trick endured the centuries? For one thing, a Cups and Balls routine can incorporate many different effects – there can be vanishes, appearances, transpositions and productions. For another, it's always been regarded within the magic world as a kind of measuring stick of a performer's ability.
The other notable thing about the Cups and Balls is the amount of individuality that magicians can bring to their interpretation of the effect and you'll find no better example of that than the seven performers you'll meet on this DVD. Tommy Wonder begins our journey with his wonderfully self-contained routine with just two cups and two surprise productions and all with no pocket loads!