KETCHUP GAMEÂ  – By Paul Romhany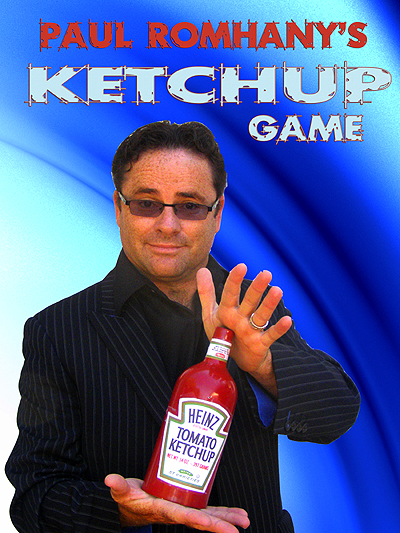 More than a production of a bottle, this is a FULL COMEDY routine with a surprise ending by Paul Romhany.
 
The magician shows a bag which contains the 'prize' or prediction. Spectator is invited to play a game where they end up choosing a card with a photo of a Ketchup bottle on it. Magician brings out his 'prediction,' which is a balloon – audience thinks they have won the game until the balloon suddenly pops and a large bottle of ketchup appears!
 
The Ketchup Game is designed so it can be performed ANYTIME during your performance and comes complete with everything you need including a very special crafted ketchup bottle made by Reg Donnelly.
 
The bottle is 9 inches tall so will look great on stage, in cabaret or in home performance situations. Reg has designed each bottle, making the production VERY easy to perform. The perfect routine for family entertainers, it has everything from laughs, mystery and a surprise ending!