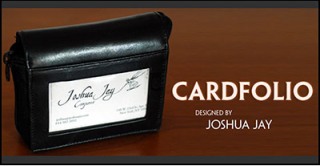 Cardfolio By Joshua Jay and Vanishing Inc.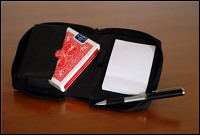 Announcing the next great idea in magic…yours.
Every great magician did it. Every book tells you to do it. Take notes. Write it down. Document your ideas. But ideas come at the strangest times: in the middle of a movie, during conversation, at lunch-none of your ideas will ever be forgotten again.
Announcing Cardfolio.
Sleek. Understated. Convenient.
This leather attaché is made to our exact specifications in soft, premium black leather. It holds a pack of cards, a pad of paper, and a collapsible Zebra pen. Cardfolio zips closed for privacy and exhibits your business card in a front-load window. Finally, you have a way to practice, experiment, invent, and REMEMBER your ideas.
The Zebra pen included in Cardfolio took us ages to locate, and it's just the kind of pen a magician should write with. It's an attractive black and silver pen that expands to reveal its ballpoint. This gadget-pen is heavy and just the sort of pen your best ideas deserve to be documented with.
Cardfolio is obviously for the close-up magician who thinks seriously and critically about his own work.
Availability: All Major Dealers
Price: $25.00