The SPONGE BALL WAND By Chance Wolf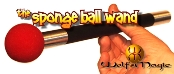 This has got to be the coolest utility device we have created to enhance ANY Sponge Ball routine from Children's magic to Adult Shows!
The Sponge Ball Wand is based on the Classic Coin Wand workings. Simple and reliable mechanics that allow a 2″ Sponge Ball to be secretly controlled to pop in and out of the wand appearing at the tip.
Watch the Video Demo for just a few ideas possible! We will be posting additional Video Demos showcasing ideas from Oscar Munoz and Arthur Atsma!
Availability: www.WolfMagic.com
Price: $75.00