GumSlinger By Chris Webb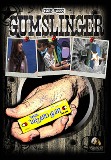 GUMSLINGER is a visual transformation using chewing gum. You remove the sticks of gum from the box, gum
in one hand, sticks in the other, and they change places instantly!
After three live performances on the streets, it's back to the studio so Chris can take you through all the techniques needed to create the GumSlinger magic that will simply mess with people's heads!
This is eye popping magic at its best from UK magician Chris Webb and the guys at Wizard FX Productions.
'The transposition used in GUMSLINGER is one of those rare do that again moments. Great visual magic!'
- Marc Oberon – World Champion Magician
'I've been using this as an opener since Chris first showed me this. It just gets great reactions every time!'
- Craig Petty- Creator of Quarantine and The Mirage Coin Set
Availability: All Major Dealers
Price: $25.00