Paul Harris Presents Strip (with Gimmick) by Jose LaC'Quest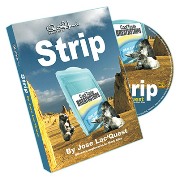 This tiny pocket pack of NAME BRAND breath strips contains an invisible change device that AUTOMATICALLY transforms, vanishes or produces small flat objects.
A few of the endless effects possible: produce a selected card, vanish a bill, visually restore a torn label. EVERYTHING can be examined right after the effect.
Carry the breath strip pack in your pocket; then, whenever you want, bring it out, let a spectator slide out a tasty breath strip…then perform your favorite STRIP astonishment.
STRIP IS FULL-VIEW VISUAL MAGIC. JUST CLOSE THE TRANSPARENT LID TO AUTOMATICALLY ACTIVATE THE CHANGE.
Avalibilty: All Major Dealers
Price: $39.95