Anttack by Christopher Ballinger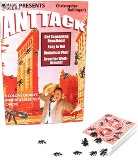 A colony of ants attack a signed card.
The Effect:
A card is selected and the spectator's favorite food is drawn on its face. The card is lost in the deck and the performer's hands are shown to be empty. The cards are spread face down and one is seen to be covered in printed ants. The card is turned over to show that it is in fact the selected card. With a flick the printed ants fall off the card and shower down into the spectator's hands. The card is then given to the spectator to keep.
ANTTACK is perfect for leaving that lasting impression on your audience. Starts with the emotional attachment to food and end with a surprising fist-full of ants.
Includes gimmicks with a detailed, fully-illustrated instruction manual.
Availability: All Major Dealers
Price: $17.00