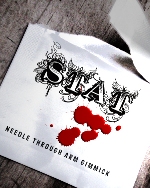 Now you can perform Needle Through Arm whenever, wherever, STAT!
The STAT Needle Thru Arm Gimmick looks like one of those alcohol pads from a First Aid Kit, you know, sealed in a little aluminum pouch. In reality, it's rubber cement!
Setup right in front of your audience! There's no need to treat your skin in advance. Tear open the "alcohol" swab and dab it on during the routine. Folks will just think you're prepping your arm for the needle!
In fact, these look so real you can even use them on a member of the audience. Needle Through THEIR Arm!
• Rip open a miracle STAT!
• High impact magic now impromptu!
• Easy to carry pouches fit in your pocket!
• Perform STAT on yourself or your spectator!
The STAT Needle Through Arm Gimmick includes 15 disposable pouches, ready to go! You'll need to have your own needle, stage blood, and routine, this is simply a refill pack to keep you performing one of the greatest tricks on earth!
Availability Notice! The STAT Needle Thru Arm Gimmick is offered here as a preorder and is not in stock. It will ship with the rest of your order Friday the 14th. There is a VERY LIMITED SUPPLY. First come, first shipped!
Availability: Magic Depot
Price: $19.95