Happy Face By Paul Romhany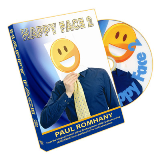 Looking for a routine that will play well for adults as well as children? Paul Romhany's Happy Face is the perfect routine for family entertainers and motivational magic. Based on a Wild Card effect, Happy Faces is destined to become a classic of Family Entertainers.
 Childrens Show:
The magician shows four large sad smiley face cards and one Happy Face card. The magician tells the children he wants to see if they can help him make the sad faces become happy. By getting the children to laugh out loud the sad face cards magically change, one by one into Happy Face cards. Perfect for school performers, birthday parties and family events.
Motivational Magic:
Paul uses this routine in his Humor Seminar to show how one Happy Person can affect a group of unhappy people in a positive way. This ties in perfectly with Paul's corporate speaking show "Laugh Yourself Well" that he presents to companies all over the world – he has even presented this for the New Zealand government in his humor seminar!
BONUS ROUTINE:
Extra cards are now included so you can perform Oscar Munoz version of Happy Face where four sad faced cards visually change to Happy – this has been the hit of Oscar's lecture tours in 2009.
Happy Face is visual magic at its best and comes complete with the GIANT oversized gimmick cards and a DVD showing a performance and explanation. Easy to do, packs flat and plays BIG.
Here is what the professionals are raving about:
"Lends itself to positive responses and plays well to children of all ages, I can use this in my school shows straight away!"
- Tony Wilson- Past IBM International President
"My brain just went on overload! I could use this in my school show. It can be open up to so much possibilities from birthday parties to corporate shows. Send me TWO straight away."
- Oscar Munoz – USA
"Just caught your new Happy Faces routine … great! Good strong magic and really nice positive message, should be in every kid-worker's repertoire. This is a winner!!!
- John Kaplan – Canada
"I would call it A TRIPLE THREAT, because you can open with it, put it in the middle or close with it!"
- Lee Delarno – USA
"Your Happy /Sad face trick is ideal for my Anti-Bullying school show. No one wants to be unhappy at school, I can see how it can be adapted to many message type shows that want to turn bad into good. This is a fun trick I can use to teach a serious message and also use at birthdays. Well done. Keep creating."
- Greg Britt – Elgregoe – National Presenter Kool Kids Care Shows- New Zealand
"Hey I love the Happy Face routine. I'm still grinning over it and wish I could have had it for my school holiday shows this week."
- Wayne Rogers – creator of appearing pole products
Availability: All Major Dealers
Price: $29.95