Unholey By Max Krause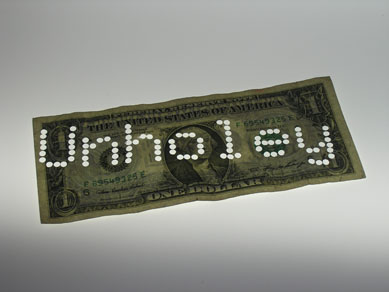 Unholey! Def.  The act of randomly placed holes in an object such as a bill to mysteriously transpose and reveal thought of cards, words, symbols and numbers.
Unholey! has everything. Audience participation, comedy, drama and an unbelievable, yet memorable climax!
Unholey! comes with several routines allowing you to tailor your performance to any age!
Unholey! allows you to leave your audience with a souvenir they will tell all their family and friends about for days, months and even years to come!
Unholey! makes them remember YOU!

The Unholey! system comes with a special font for creating templates along with detailed instructions on how to give your audience an Unholey experience! Works with any currency and many other mediums. Mac or PC compatible.
"Unholey!!! Unreal!!! This is good stuff here!!!  This thing is as versatile and as strong as it gets.  This thing is Killer, I mean Killer!!!  This is a reputation making effect. Buy this thing, it pays for itself the first time out, period!!"
- Renzo Baronti
"This is really novel, unique…and downright creative! I will put this system to good use with several different effects, including a couple of the effects that Max sends along with the CD Rom. Can't think of a better souvenir to leave with an audience member or that special person or client."
- A.J Polizzi
"I have this and must say that this is very innovative thinking. A natural progression and improvement on an age old classic. The possibilities are vast and endless.  You are truly limited only by your own imagination. What I really love is the fact that you can leave your audience with a very memorable souvenir along with your business card.  Comes highly recommended! A real pleasure to own and perform!"
- Richard Mendez
Availability: Innovative Deceptions
Price: $20