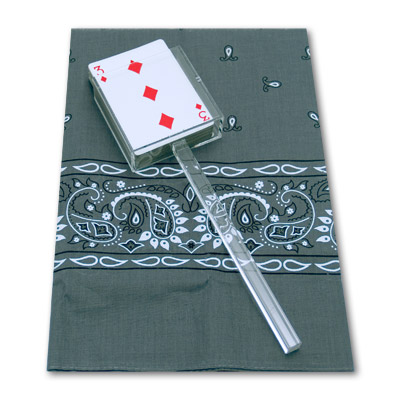 Comedy Comeback Card
A deck of cards is shown, and cut to bring the Five of Diamonds (for example) to the face. It is then put into a clear holder to prevent any possibility of sleight of hand. Now the Five of Diamonds is deliberately removed and pushed it into the deck leaving the Six of Spades (for example) showing.
A handkerchief is flicked over the cards, and the Five of Diamonds jumped right back to the front. The Five is removed to show the Six of Spades is still there.
Following the popular six card repeat theme, the effect is repeated a second and third time, on the fourth try a Joker makes an appearance. Finally the Joker is put away and the Five jumps back for the last time.
An ideal Parlor or Club effect, the Come-Back Card comes complete and ready to perform. No complicated resets, good visibility, and strong visual impact make this an ideal item for your next seasons show.
Ready to perform with a deck of cards, holder, handkerchief, gimmick cards, and instructions.
Availability: All Major Dealers
Price: $60