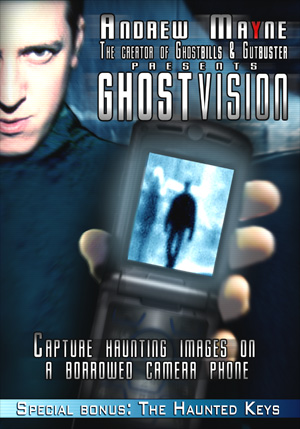 Andrew Mayne, creator of Gut Buster and ghostbills, presents a 21st century paranormal effect. Using an unprepared borrowed camera phone the magician reveals spectral images of ghosts and premonitions from beyond.
Your spectators watch the display as a dark silhouette crosses the room in real time

A thought of word, image or card appears in a photograph of a spectator's hand

A haunted face appears in the shadows
GHOST VISION is a spine-tingling effect that allows you to use a borrowed portable electronics device to create a digital seance that can be saved as photo or movie. It's easy to perform and works with most camera phones.
24 minute widescreen DVD including an extra bonus effect: The Haunted Keys
Comes with everything needed to perform (cell phone not included).
Only $14.95 (free US and Canadian shipping)