Start your ad campaign today!
With thousands of daily visitors iTricks has become the premiere destination for daily magic news on the web. iTricks visitors have a love of magic and are curious to find out the latest new products and services you have to offer.
With just a few clicks you can be advertising on iTricks in minutes.
Simply select the ad program you would like to use, provide a link to your banner or text copy and that's it. We offer heavily discounted subscription plans that automate renewals and streamline the process making it easy for you to get the message out to your new customers.
Step 1. Select an ad program


Step 2. Provide us with a banner or text copy


Step 3. Profit!


For more information contact Justin @ itricks.com
---
NEW! $99 Product Launcher Package
Got a new effect or DVD you want to launch and get the word out quickly? Try our product launcher package and get the word out today.


2 sponsored posts


1 podcast live read on Magic Week in Review or Magic Stars podcast


Just send us your ad copy plus artwork and/or video and get started right away.


---

Sponsored posts
For just $60 (get two spots for $75!) we'll post your ad as a Sponsored Post. It's a great way to get in front of over 1,000 of our daily visitors. This ad can be a video, ad copy or a special message.
Contact Justin @ itricks.com.
One sponsored post $60
Two sponsored posts $75
One month $120 (four spots)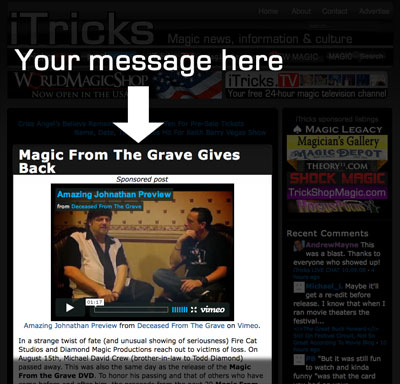 ---
Podcast advertising
For $45 over 1,000 of our listeners will hear your commercial for your product or service.
---
Monthly ads are handled through PayPal and can be canceled at any time.
Our monthly ad program allows you to buy a set number of impressions every month at a reduced price. Monthly advertisers are also included in our Ad Max program which give you extra impressions with traffic growth.
---
2¢ Top Sponsor Banner Ads!!! (468x60 pixels)
Don't get lost among dozens of banners on other sites. Be the most visible banner on iTricks.

$50 for 1,000+ impressions (5¢ per impression)
$75 for 3,000+ impressions (2.5¢ per impression)
$100 for 5,000+ impressions (2¢ per impression)
These rates are for one-time non-reoccuring ads on iTricks.
---
3¢ Top Sponsor Banner (468x60)

$60 for 1,000 impressions (6¢ per impression)

$80 for 2,000 impressions (4¢ per impression)

$150 for 5,000 impressions (3¢ per impression)
---
*Here's an iTricks secret: Want free advertising for your new product? Send a description with a photo and or video for it to us and we'll list it in our New Magic section for free! If you're a magic dealer and want a free plug, write a review of an item you like and carry and we'll put it in our Reviews section and give you a free link in your review.